"For it is in giving that we receive" - St Francis of Assisi
I love my reader giveaways! Because I haven't got involved with product reviews or blog sponsors and I have no books or e-books I've written that need promoting, the giveaways are of my own creation, rather random, and not especially popular...(all three have resulted in a whopping two entrants every time).
But they have all been great fun for me.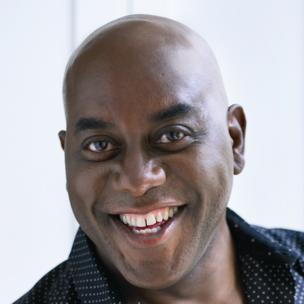 Ainsley Harriot, celebrity chef. He may not have known it
but he became involved in the Butternut Squash giveaway!
Take the first one, for example (the butternut squash planting kit). This resulted in me accidentally gaining from the giveaway when

Son opened it and planted it

before it could be sent. It continued to progress in unexpected directions; on my way to the Post Office to send the replacement butternut squash kits, I found that none other than

Ainsley Harriot

(the popular UK TV chef) happened to be cooking up sausages in our high street. He was filming for his latest TV series about British food, which is coming out in the autumn. That's a very out-of-the-ordinary event for this sleepy Wiltshire market town, so of course I stopped to watch for a while. If it hadn't been for the giveaway I would have missed out on all the excitement. Since then, I haven't bumped into any more celebrity chefs but I have enjoyed getting the odd update from the lucky squash seed recipients, and every time I look at my own butternut squash plants I think about their butternut squash cousins and their owners elsewhere in the UK.
The second reader giveaway (a copy of Jonathan Porrit's book, Seeing Green) was equally thrilling in a different way. The winner disappeared for a while, and I had fun trying to track her down; emailing subscribers who I thought might be her (but weren't and were probably rather confused by the emails), and pondering the nature of blog readers. Just when I thought the winner had disappeared for good, she popped up again. Phew! Whenever I look at my copy of Seeing Green on the bedside table waiting to be re-read, I think of her and wonder if she's doing any better than me.
Daughter about to choose the lucky winner!
The third and recent reader giveaway,

was the Tala measuring cone

, which will enable the winner to cook by volume rather than weight. Choosing the winner was a nail-biting affair - the names of the entrants, all two of them (including one previous winner), were put into the measuring cone, and Daughter drew a winner...as is the way with draws, the previous winner got lucky again! I'm sorry,

Emma @ HertfordshireMummy

. Better luck next time!
The moral of the story is twofold. Firstly, it really is well worth entering my strange giveaways in the future as you stand a very good chance of being a lucky winner. Secondly, St Francis is right; in giving, we do indeed receive. Being frugal certainly doesn't mean you have to stint on being generous. And you just might get back more than you give.