Back in mid-May I wrote about a week of frugal wins and loses, and

I promised you a blog post about how we reduced our energy bill

...this week the last pieces of the jigsaw fell into place, so here it is at last! Are you sitting comfortably? Then I'll begin!
Once upon a time, a long time ago in the Autumn of 2011, Sarah and Husband heard all the news about gas and electricity prices rising by 40% and thought they should do something about their fuel costs. They scratched their heads, did some online research and ran around in circles. It was all very confusing and rather time consuming and if they're honest, they found it a little bit boring. In the end they did nothing and forgot all about it.
Frugal lesson no. 1: Don't bury your head in the sand where personal finance and energy saving is concerned!
In November 2011, the friendly meter man came to read the electricity and gas meters.

Remember how Sarah has to stand on the kitchen cupboards to read the meter

? (That was one of Everyday Life On A Shoestring's very first blog posts, and a bit of a blogging experiment, but Sarah can't bring herself to delete the chocolate bunny!) As well as doing the computery meter reading stuff, this particular meter man has noticed all the musical instruments in the house and always likes to have a chat about music and song writing. He even hoped Sarah might be able to solve the conundrum of whether it would really be possible to play the piano upside down like Keith Emerson; probably not.
This time they also had a chat about energy suppliers (he works for a meter reading contractor not the Everyday Life On A Shoestring energy supplier) and he said a lot of customers were recommending

Cooperative Energy

, although nothing was done with this piece of useful information.
Frugal lesson no. 2: Single-tasking is superior to multi-tasking! ALWAYS. When meter reading, read the meter and don't chat at the same time!
Spring 2012 was cold and miserable, but imagine how even more cold and miserable Husband felt when he was checking his bank statements, and found that the energy bill had gone up to £345 per month. Husband was distraught. Maybe all that welding the 1966 Morris Minor had used up more electricity than he had anticipated.
The couple chastised themselves for not having sought a cheaper energy deal when they had originally thought about it, but even so, realised that a price hike of £200 per month was much more than any rise they had been expecting. Something was wrong!
Frugal lesson no.3: Always reconcile and check your bank statement for anomalies!
Sarah immediately phoned the energy supplier; one of the UK's 'Big 6', and thankfully, once it was established that the family don't live in a 5 bedroomed mansion with underfloor heating and a hot-tub in the garden, the customer adviser on the end of the line could see that something was awry. He suggested a new fixed tariff, which brought the monthly amount down to £195 straight away.
Frugal lesson no. 4: Even if you don't have time for lengthy price comparisons for the utilities and supplies you pay for, it's always worth speaking to your current provider to make sure you are getting the best deal!
After delving into the situation a little further, it transpired that two digits in the November meter reading had somehow got transposed, with the result that the family's energy consumption appeared to have trebled.
Frugal lesson no. 5: In future Sarah will double check the digits when she reads the meter, and will cut out the middle man, especially as she's the one doing all of the work by climbing on the work surfaces anyway! The readings will be regularly entered, online. That way, all 'estimated' readings will be eliminated.
The company promised to review the account, and after a few weeks there was another another price drop in the monthly figure paid.
This week, Sarah and Husband were contacted with the news that a considerable refund will be made to their bank account, and that the monthly direct debit will decrease once again. Hurrah!
Frugal lesson no. 6: Although they got there in the end, Npower was very slow in sorting this out; the couple's money was sitting in the company's bank for longer than it should have been. You need to keep on the ball with these big companies, and they should have been chased up sooner, however infuriating it is to sit in their telephone system.
While all this had been going on, other ways to reduce energy consumption and bills were being investigated by Everyday Life On A Shoestring. Gas and electricity prices certainly aren't going to get any cheaper in the years to come. Although the loft is insulated, it was about time Sarah and Husband invested in cavity wall insulation too and they happily planned to use some of the Npower refund to pay for it and to finish installing the woodburner that had been bought a while back.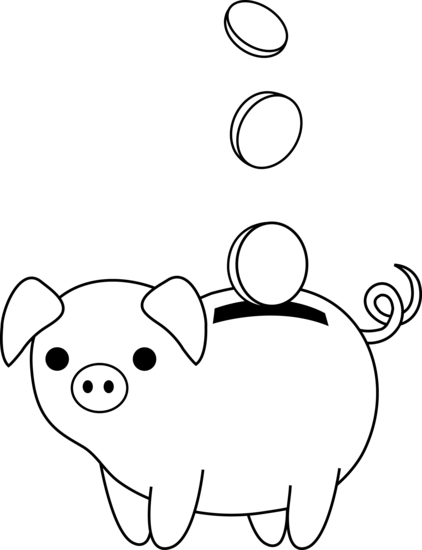 Image courtesy of www,sweetclipart.com
This story truly does have a happy ending. As well as Npower inadvertently becoming the family's mini 'extreme savings plan' for a few months, they discovered that due to the age of their property, it qualified for free cavity wall insulation, and that has been booked for October. Once the house has cavity wall insulation, there may be other grants available to help with further energy efficiency measures.
Frugal lesson no. 7: Keep up-to-date with

Government energy saving programmes

and book your cavity wall insulation quickly before installers get busy during the winter months!
And Sarah, Husband and the little Everyday Life On A Shoestrings lived warmly and happily ever after!
THE END