Under the bed?
Delia suggests storing the Christmas pudding there, if it's a cool bedroom. Coolness certainly isn't a problem here. After our brush with expensive energy bills earlier in the year, we've only had the heating on for a couple of hours this Autumn, just to check it still works. But previously it has been known for there to be both mice and dust under the bed, so I'll stick with the kitchen cupboard for my pudding.
From the frugal point of view, I was pleased to hear that beds are the in thing. For once I can consider myself 'on trend' because I'm extremely fond of mine. Especially at the moment, when it feels as if the sensible thing to do would be to hibernate.
According to discussion on BBC Radio 4, many people who work from home are actually working from bed, because energy bills are rising, and bed is the warmest place to be. Consequently there's a high demand for ipad bedstands and things to lean on and rest gadgets on (go and check Amazon if you don't believe me). And the 'onesie' (which is probably as close to wearing a bed as you can get) is reputed to be top of everyone's Christmas list (but definitely not mine).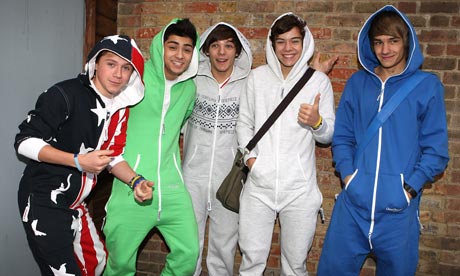 One Direction in their onesies.
Although I don't work from home, so am not to be found reclining under the duvet during the day, I've always liked Billy Connolly's advice in his Desiderata at the end of his autobiography*:
"
Let your bed become to you what the Pole Star was to sailors of old… look forward to it."
Charity shop bedding as featured on a recycling
blogpost on the blog earlier in the year
.
And whilst I appreciate my 'rescue' mattress and my charity shop duvet cover, a
blog post
on the Tiny Buddha blog this week, got me thinking about gratitude for my bed from a whole new angle...the people who mined the ore, logged the trees for the slats, designed the frame, drove it to the shop, made the pillows, sewed the sheets...the list is endless.
Lastly, and still on the subject of beds, the Doctors on Goodnight Britain, BBC 1's show about problem sleepers, agree with Everyday Life On A Shoestring; screen time and use of electronic gadgets before bedtime can interfere with sleep. (All those homeworkers on laptops in bed, take note!)
Night! Night!
Do you love your bed? Do you work in bed? Or store your Christmas pudding under the bed?!
_________________________________________________________________
* Other stuff I like from Billy's Desiderata (without the sweary bits)
Have lots of long lie-ins.
Wear sturdy socks
Never eat food that comes in a bucket.
If you don't know how to meditate at least try to spend some time every day just sitting.
Play the banjo.
Eat plenty of liquorice allsorts.
Marry somebody you like.
Avoid bigots of all descriptions.
Clean your teeth and keep the company of people who will tell you when there's spinach on them.
Avoid people who know the answer.
Keep the company of people who are trying to understand the question.